My memories of putting complex jigsaw puzzles together as a family predate the current puzzle craze of corona days. I still remember holiday getaways as a teenager where my parents, sister, and I would sit around a table in a mountain cabin and collectively tackle the piece by piece assembly of folk art and nature scenes.
Many years passed before I assembled another puzzle until a little over a year ago, when my daughter initiated a newfound appreciation by fixating on a 1,000 piece Star Wars scene at a thrift store. It proved to be significantly more challenging than 6 year old Aspen was anticipating, but we put the whole thing together over the weekend along with the help of my then boyfriend. In the process, we discovered how satisfying and engaging this puzzle pastime could be, while also realizing how much it appealed to our collective obsessive-compulsive tendencies.
This experience spurred me to search out what sorts of puzzles were available these days of online shopping, and I found a vast range of appealing subject matter to bookmark on sites like PuzzleWarehouse.com. Several months later, I put together an image of colorful spools of vintage sewing thread with a little more help from Aspen. We glued the finished masterpiece together, mounted it, and hung it in my sewing studio.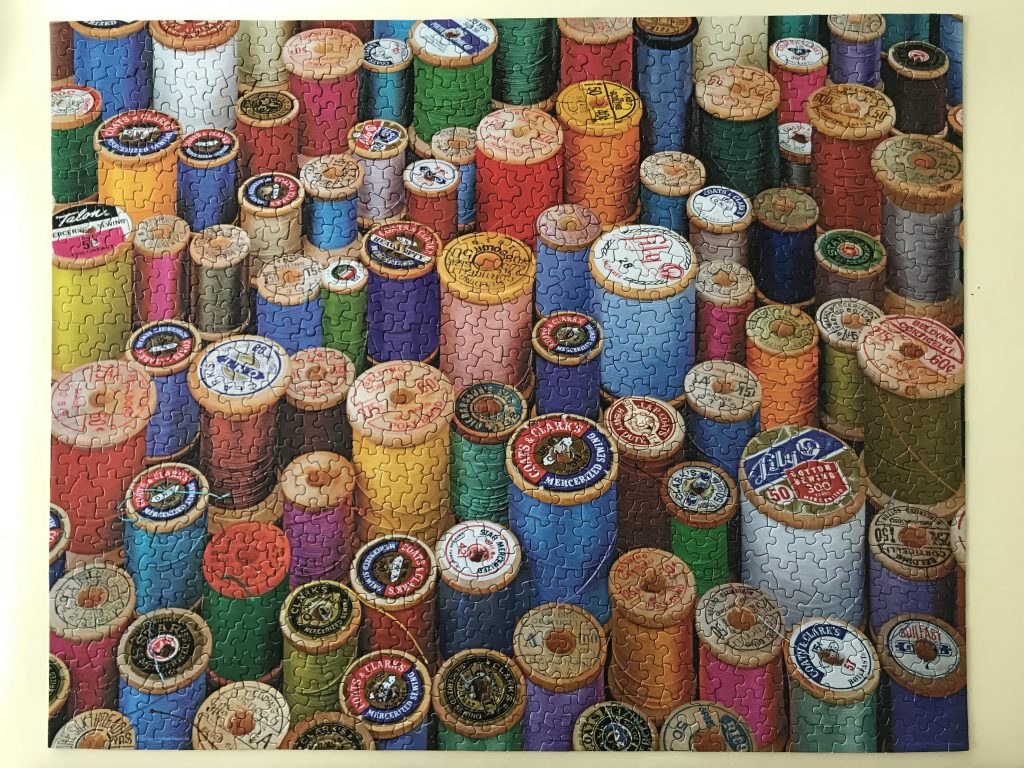 Over a month ago when all the stay at home orders started to go into effect, I started to see news articles about the surge in demand for jigsaw puzzles. Sure enough, many retailers were sold out or experiencing long delays in filling orders, but I was able to find and order a couple of Charley Harper puzzles that had already been on my wish list. Aspen and I put together the Rocky Mountain scene a few weekends back (before mask sewing completely dominated my days!), and she has become far more involved in the process which makes puzzles an even more enjoyable family project. I've already hung this one up on our wall and am looking forward to finding some time to start on the next one!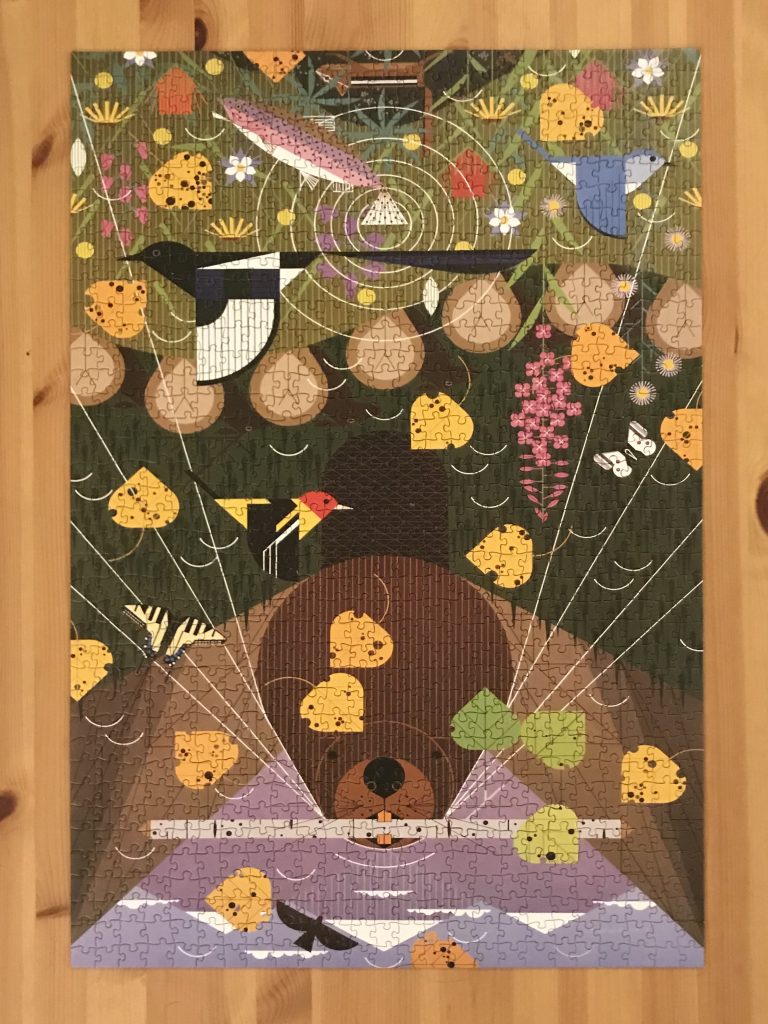 Puzzle retailers are still struggling to keep up with recent demand, as are the puzzle factories, so good luck and be patient if you feel inspired to order a puzzle or two in the near future. You might actually have better luck finding a local puzzle exchange on NextDoor or Facebook, as plenty of other people have already completed a number of puzzles in recent weeks that are ready to be passed along. Puzzles are a great source of affordable reduce, reuse, recycle entertainment.
If you really want to geek out on puzzle math, including a number of Algebra 1 level equations that can be used to calculate the difficulty and odds involved in assembling puzzles of varying piece numbers by color, row, piece shape, and more, then check out Scott Davidson's extensive article entitled The Mathematics of Jigsaw Puzzles. For those who have a more casual curiosity, I've compiled a collection of puzzle facts by the numbers below:
1767: Jigsaw puzzles began to be commercialized after London cartographer John Spilsbury began mounting maps on sheets of wood and cutting out individual countries with a fine blade saw. These puzzle maps became an educational tool to teach geography. The popularity of puzzles spread over the next century as other images were mounted and cut from wood, then eventually cardboard became the most commonly used medium.
$5: In 1908, this was the average cost of a 500 piece wooden puzzle, cut one piece at a time, which was cost prohibitive for the average worker who took home $50 per month.
1930's: Cardboard puzzle die cutting hydraulic press machines were introduced to stamp out interlocking pieces with precision and efficiency, greatly decreasing the cost of puzzle manufacturing, and opening the gates for widespread puzzle distribution.
1933: Puzzle sales peaked at 10 million per week, as adults flocked to puzzles as a popular past time during the Great Depression.
1100 tons: the amount of force required to stamp out a 1,000 piece puzzle – far greater than the cookie cutters the process is modeled after.
230 feet: the length of steel in a cutting tool to stamp a 1,000 piece puzzle
4 weeks: the amount of time it takes puzzle maker Ravensburger to develop and create a new metal tool to cut a puzzle with 1000 unique interlocking pieces. These stamping tools dull quickly and are replicated in volume, which is why it's possible to interchange puzzle pieces from different puzzles of identical dimensions that come from the same factory.
370%: the increase in puzzle sales reported by the large puzzle manufacturer Ravensburger in March 2020 in response to widespread stay at home orders during the early weeks of the Coronavirus pandemic. This amounted to an average of 20 puzzles sold per minute, compared to 7 per minute the previous March.
1026 pieces: The average 1,000 piece puzzle has a 38 x 27 border layout, which produces a total of 1026 pieces. Most puzzles contain more pieces than stated on the box, unless they contain very irregularly shaped pieces designed to hit an exact target number of total pieces.
513 pieces: The average number of a 500 piece puzzle measuring 27 x 19.
4X: Doubling the number of puzzle pieces actually quadruples the degree of difficulty, due to the squared nature of increased possibilities. Thus, a 1,000 piece puzzle is 4 times more difficult than a 500 piece puzzle, and a 2,000 piece puzzle is 16 times more difficult. This is why there aren't as many puzzles available that contain more than 1,000 pieces.
I highly recommend the meditative mental diversion that jigsaw puzzles provide. There is something quite satisfying about the sense of accomplishment you gain with completing a puzzle, provided the challenge doesn't drive you bonkers in the process! My next puzzle has an all-black border; I'm anticipating the level of difficulty will be considerably higher, and I might just switch up my border assembly strategy after reading Davidson's mathematical jigsaw analysis. Puzzle on people!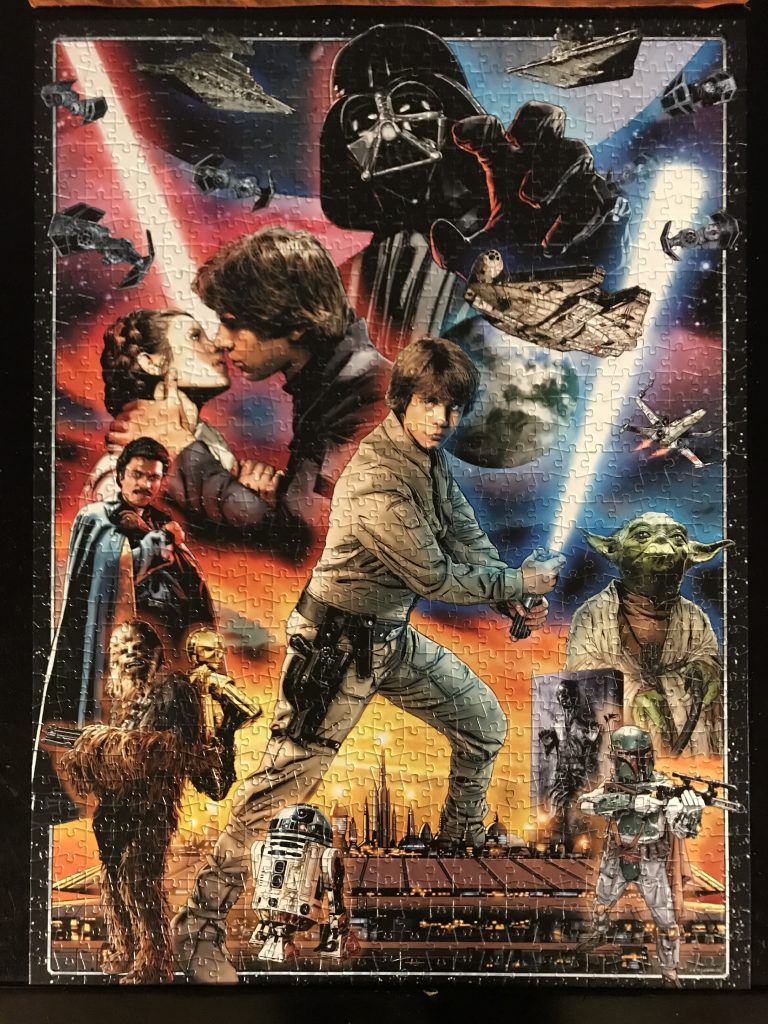 Sources:
https://en.wikipedia.org/wiki/Jigsaw_puzzle
https://www.puzzlewarehouse.com/history-of-puzzles/
https://web.archive.org/web/20001019002453/http://www.jigsaw-puzzle.org/jigsaw-puzzle-history.html
https://www.puzzlehobby.com/Mathematics-Jigsaw-Puzzles.html
https://www.puzzlehobby.com/how-to-count-puzzles-pieces.html
https://www.jigthings.com/choosing-jigsaw-puzzles/
https://www.nytimes.com/2020/04/08/business/coronavirus-jigsaw-puzzles